INSTRUCTORS Skipper Ingham, 10o, founder; Kristina Ingham 8o, head instructor; Kent Simmons, 6o, head trainer (Dojo of the Free Spirit); Gladwin "Roots" Phillips, 5o, senior instructor (Boddhidharma Zenjiryu Karatedo); Zenji Ingham, 4o, senior kata no bunkai sensei Simon Foster, 4o, instructor; Geoffrey Rothwell, 4o, instructor. Stephane Guillot, 2o, judo instructor
Our Philosophy
Ten Commandments of Goju (Butokukai) adopted from Urban Sensei 1. We are proud to be karateka. 2. We shall always practise and study. 3. We shall always be quick to seize opportunity. 4. We shall always be persons of quality. 5. We shall always respect the laws of reality. 7. We shall always be prepared for life and death. 8. We shall always love our parents, teachers and family. 9. We shall always be true to ourselves, karate and country. 10. We shall always plan our work and work our plan.
Bermuda's original karate dojo
BKI was founded in 1970 and held its first classes at Loft Memorial Hall at Khyber Pass in Warwick, later moving to Paget Primary School. In 1972 it moved to the corner of Court and Church Streets. where it remained for 17 years. In 1989 BKI moved to its present King Street location.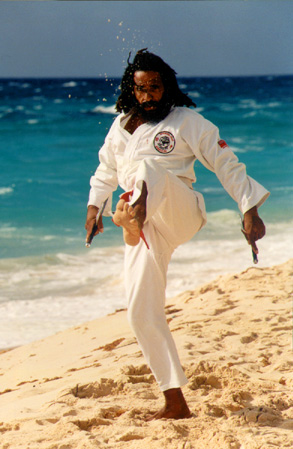 Kent Simmons has competed in many local and international events in all disciplines (forms, weapons and fighting). He is a dedicated instructor and devoted to the concept of karate as a lifetime activity.
Gladwin "Roots" Phillips, gold medalist WKO Buenos Aires 1994